Lojel Voja Hardside Suitcase Set of 3 Terracotta JVO55, JVO66, JVO77 with FREE Lojel Luggage Scale OCS27
Secure your journey with Lojel Voja luggage. Lojel Voja's injection-molded polypropylene shell is incredibly sturdy, while the 3-point lock system is quick to open and close. Lojel Voja suitcases are made from a proprietary polypropylene blend—it's nearly indestructible and doesn't get white scuff marks like standard formulas. Its 3-point lock system incorporates a large latch with a combination lock, as well as and two smaller slider latches. The dual wheel system is sturdy and stable, while quiet-running casters let you roll smoothly and silently. A retractable handle tucks away for safekeeping.
Main Features of the Lojel Voja Hardside Suitcases include:
Advanced polypropylene shock resistant case shell with scratch and scuff resistant textured exterior
Rubber seal helps protect contents against wet weather and moisture
Three point latch closure with TSA approved lock
Extra strength 360 degree easy glide double wheels
Lightweight multi-stage trolley handle system
Convenient recessed top and side grab handles
Unique rear warranty plate
Completely flush outer surfaces
Grove on base to assist with lifting (large and medium sizes only)
Fully lined interior with multiple organization pockets and cross ribbons in bottom compartment to assist with packing
Lojel Voja Small/Cabin 55cm Hardside Suitcase
External Size: 54.5cm x 37.5cm x 23cm (includes wheels & handles)
Weight: 3.2kg
Capacity: 37lts
Warranty: 10 Years
Note: Approved cabin bag size for Qantas and Virgin domestic and international flights
Lojel Voja Medium 66cm Hardside Suitcase
External Size: 66cm x 46cm x 27cm (includes wheels & handles)
Weight: 4.2kg
Capacity: 66lts
Warranty: 10 Years
Lojel Voja Large 77cm Hardside Suitcase
External Size: 77cm x 55cm x 32.5cm (includes wheels & handles)
Weight: 5.5kg
Capacity: 112lts
Warranty: 10 Years
Bonus offer: Buy the Lojel Voja luggage set and receive a free Lojel Digital Luggage Scale!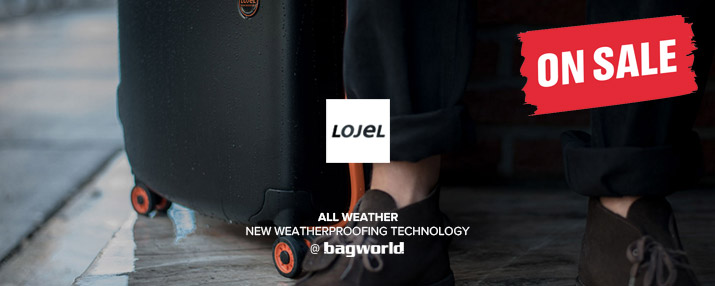 Innovation has changed the way we see the world, as well as how and why we explore it. Lojel was founded on the idea that travel goods should evolve to match the way we actually travel today—and plan to travel tomorrow.
More From This Brand
RRP:

$499.00




RRP:

$499.00




RRP:

$499.00