Pacsafe Carrysafe 100 GII Anti-Theft Camera Strap Black 15261
Neoprene padding and high-tensile stainless steel wire make the slash resistant Pacsafe Carrysafe 100 GII camera strap durable and comfortable. Featuring non-slip, movable neck pad, spring-loaded metal clips and locking system.
Anti-Theft Features:
Carrysafe® slashguard strap
Turn & lock security hooks
Webbing with Dyneema® connectors
Additional Features:
Suitable for most DSLR and MCS with dual side attachment points
Adjustable webbing with Dyneema® connectors with Hypalon protective loops
Adjustable shoulder strap with slip-free padwithout removing webbing connectors from camera
Thicker padding for greater comfort
Soft touch neoprene and elastic binding
Neoprene sleeves cover hooks and webbing to offer additional theft prevention and protection for the camera
Materials: Neoprene padding, Dyneema® / PP webbing
Max Length: 113cm
Width: 1.8cm
Weight: 0.126kg
Warranty: 2 Years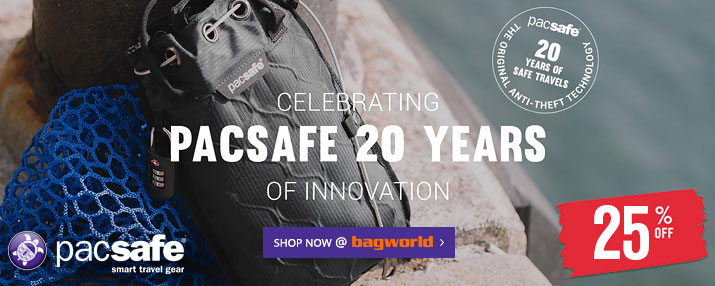 The best thing about travel is the sense of freedom, adventure and excitement it brings. Pacsafe understands that the last thing you want is to be weighed down with concerns about whether or not your gear is safe and secure. It is for this reason that Pacsafe has created their range of anti-theft bags and luggage.
More From This Brand
RRP:

$27.95




RRP:

$47.95




RRP:

$7.95