Pacsafe Silent Pocket Faraday RFID Blocking Phone Guard Black 10995
Instantly enhance your daily privacy, security, and health. The Pacsafe Silent Pocket Faraday RFID Blocking Phone Guard gives anyone the ability to disappear from the grid with Pacsafe's patented radiofrequency (RF) Faraday cage. By placing a phone or device inside you are blocking Cellular, GPS, WiFi, Bluetooth, RFID, NFC, EMR, EMF and Radiation. Equally at home on your bedside table or in your bag, this soft case is made for when you want to disconnect and be undetectable, untraceable and unhackable.
Main features of the Pacsafe Silent Pocket Faraday RFID Blocking Phone Guard include:
Patented Faraday cage design 100 dB+ blocks Cellular, WiFi, Bluetooth, GPS, RFID, NFC, Key Fob
Press stud outer closure and magnetic inner closure
Rear storage sleeve for cards or passport (RFID blocking only)
D-ring allows attachment to clip, key ring or chain
Blocks frequencies between 800MHz – 5 GHz
Blocks CDMA, GSM, DCS, PHS, 3G, 4G, LTE
Blocks WiFi (2.4 - 5 GHz), Bluetooth (2.4 GHz) and GPS (1-2 GHz)
Blocks RFID and NFC in 13.56 MHz
Blocks Carrier, hardware, and OS

Large enough to fit a passport inside main pouch with phone
Size: 21cm x 12cm x 1cm
Weight: 60g
Warranty: 2 Years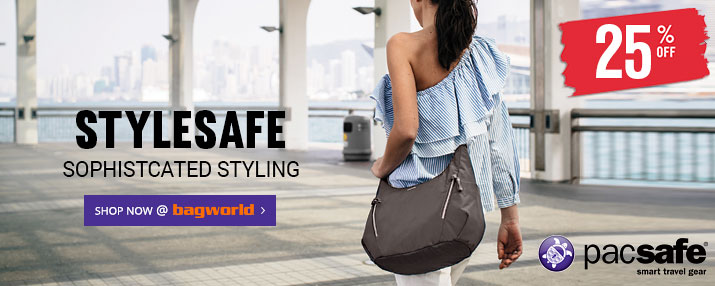 The best thing about travel is the sense of freedom, adventure and excitement it brings. Pacsafe understands that the last thing you want is to be weighed down with concerns about whether or not your gear is safe and secure. It is for this reason that Pacsafe has created their range of anti-theft bags and luggage.
More From This Brand
RRP:

$27.95




RRP:

$57.95




RRP:

$9.95