High Sierra Access 17" Laptop Backpack Black H5462

Targus VersaType 4-in-1 Keyboard Case for iPad Air 2 Black HZ500

Solo Urban 15.6" Laptop & Tablet Hybrid Briefcase Charcoal BN310

RRP: $99.00
Best Price: $59.40
Includes Free Delivery

RRP: $149.95
Best Price: $99.95
Includes Free Delivery

RRP: $129.95
Best Price: $97.45
Includes Free Delivery

Antler Juno Large 79cm Hardside Suitcase Orange 34922

Samsonite Engenero Large 75cm Hardside Suitcase Silver 59599

Pacsafe Citysafe CS100 RFID Blocking Anti Theft Tablet Handbag Cranberry 20210

RRP: $299.00
Best Price: $179.40
Includes Free Delivery

RRP: $599.00
Best Price: $279.00
Includes Free Delivery

RRP: $159.00
Best Price: $135.15
Includes Free Delivery

Lipault Accessories Shopping Bag Purple 53015

American Tourister Bon Air Large 75cm Hardside Suitcase Blue 62942

Tatonka Barrel Bag Backpack 53cm Small Lemon T1951

RRP: $89.00
Best Price: $62.30
Includes Free Delivery

RRP: $279.00
Best Price: $167.40
Includes Free Delivery

RRP: $139.00
Best Price: $104.25
Includes Free Delivery

Shopping at Bagworld is an unique experience. Bagworld stocks Australia's largest range of big brand luggage, travel goods, and bags at the best prices on the market. We also include free and speedy delivery of your purchase. We are available to answer any questions you have about the products or how to shop at Bagworld.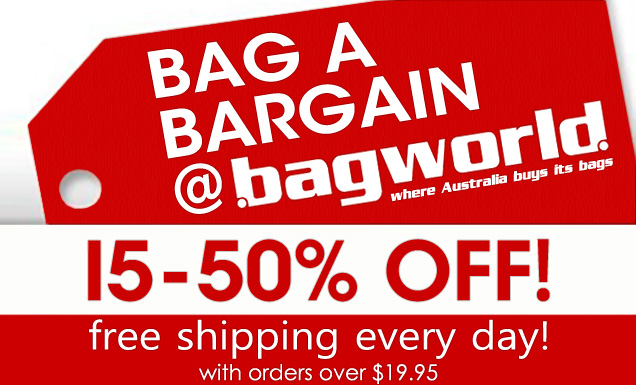 Bagworld is Australian owned and run, and has been in the bag business for more than 25 years. The established relationships we have with the manufacturers mean that we can pass our savings on to you. Purchasing through Bagworld means great value products, at low prices.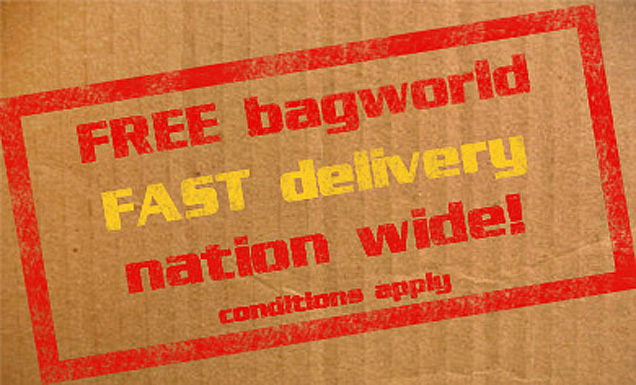 Find at Bagworld Australia's biggest range of backpacks, briefcases, business bags, cabin bags, camera bags, compendiums, cross body bags, garment bags, handbags, iPad cases and accessories, kid's bags, laptop bags, luggage, money belts, sleeping bags, suitcases, toiletry bags, tote and duffle bags, travel accessories, travel books, & wallets and purses.
Our great brands include: AirBac, Airport, American Tourister, Antler, Artex, Case Logic, Caterpillar, Cellini, Cheddar Pocket, Eagle Creek, Go Travel, High Sierra, Jeep, Kenneth Cole, Lipault, Lojel, Lonely Planet, LuggageLock, Octonauts, Odoyo, OSA Brands, Outcased, Pacsafe, Peppa Pig, Qantas, Revelation, RMK, Samsonite, Sena, Solo, SuitPack, Swiss Gear, Targus, Tatonka, Titan, Travelon, Vault, & Wenger.